28 Jul 2017, 1:07 p.m.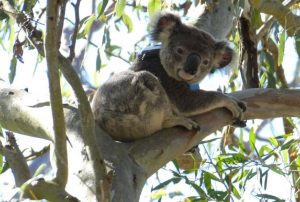 KOALA SEARCH: Have you seen this young man or his radio collar. He also has a green ear tag in his left ear.
THE Koala Action Group has lost one of eight koalas to have been fitted with a radio-tracking collar and is asking for public help to find him.
KAG president Debbie Pointing said it was fingers crossed that the young koala that was being tracked in the Toondah area had not come to any harm.
"But we are realists. We last saw and tracked Ethan on Sunday and haven't been able to get a signal since," she said.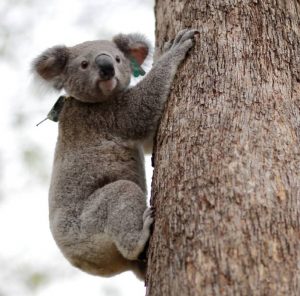 KOALA MISSING: Ethan with his radio collar and prominent green ear tag in his left ear. Fears have been raised about where he might be.
"We have been tracking him about eight months and he is nearly two years old.
"His GPS tracking collar may have fallen off or stopped working but he can be identified by a green ear tag in his left ear (see photo)."
Ms Pointing said it was normal at this time of year for young males to take off in search of new territory or home range and to look for ladies.
​"KAG would like the community help to find him, particularly those that live in Cleveland or regularly visit the area," she said.
"It's a timely reminder for residents to be extra careful while driving at night and to keep pet dogs in a secure area overnight to allow koalas and other wildlife to cross yards safely."
If you think you've seen Ethan or the GPS tracking collar contact KAG at 38235575 or email admin@koalagroup.asn.au.
http://www.redlandcitybulletin.com.au/story/4819172/has-anyone-seen-ethan-and-his-tracking-collar/?cs=213