Map Unavailable
Date/Time
Date(s) - 27/10/2018 - 28/10/2018
All Day
Categories
OCTOBER 27-28th
Redlands Annual Koala count-a-thon is on again and we're asking for your
help to find where koalas are living in the Redlands.
Each year the Koala Action Group in collaboration with Redland City Council conducts
a count-a-thon to gain a better idea of the location of koalas in the Redlands.
Koalas can still be found in many parks, bushland reserves and school grounds and we
would like residents to get out and about to search some of these areas.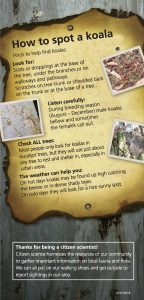 We also ask that residents look in their own properties (koalas may be resting in any type of tree) and let us know if you find a koala over the weekend of October 28th and 29th.
Please tell us where you spotted a koala. If you looked but couldn't find a koala, let us know by phone or email.
How to spot a koala
The weather can help you:
On hot days koalas may be found up high catching the breeze or in dense shady trees.
On cold days they will look for a nice sunny spot.
Check ALL trees:
Most people only look for koalas in eucalypt trees, but koalas will use just about any tree to rest and shelter in, especially in urban areas.
Listen carefully:
During breeding season (August – December) male koalas bellow or grunt and sometimes the females make a higher pitch call.
Look for:
Scats or droppings at the base of the tree, under the branches or on walkways and pathways.
Scratches on tree trunk or shredded bark on the trunk or at the base of a tree.
Thanks for being a citizen scientist!
Citizen science harnesses the resources of our community to gather important information on local fauna and flora.
We can all put on our walking shoes and get outside to report sightings in our area.
Koala sightings can be reported:
Online: redlnd.cc/koala-countathon
KAG website: www.koalagroup.asn.au
Email: admin@koalagroup.asn.au
Facebook: www.facebook.com/KoalaActionGroup
Phone: 3823 5575 between 6am and 6pm