The Ormiston Koala Population Monitoring Project commenced in March 2019. The project has been designed to gain detailed information on koalas residing within the Ormiston Koala Conservation Safe Neighbourhood (KCSN) catchment.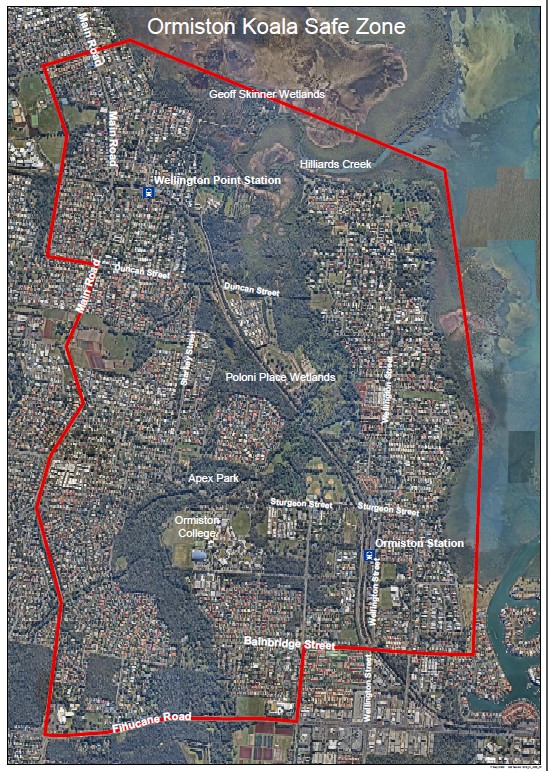 The project is sponsored by Redland City Council and will further gather evidence on the genetic relationships, health and movement of this population of koalas. Some koalas will be captured for health examinations in an effort to better understand disease; koalas will also wear specially designed GPS tracking collars so researchers can keep an eye on these koalas as they lead their daily lives.
This information will be used to help RCC continue to refine conservation plans to better protect Ormiston's koala population against threats such as disease, dogs and cars.
Koala researchers from the University of Sunshine Coast will be using both koala detection dogs and drones to locate and survey koalas for this project. It's important to note the drones will be flying in the late evening and searches will be focussed in local parks and within Hilliards Creek corridor. They will not be flying directly over people's homes.
If you see the researchers in the local parks or reserves you are welcome to have a chat and hear all about the project. Some events are also planned in the coming months to keep residents informed of the projects progress.
KAG would appreciate any koala sightings, especially in the target area, be reported to the ALA through the links on this website or by contact with KAG.
Click on the following link to view the scientific reports and more information relating to the Koala Conservation Program 2016-2021 project click here